Do Sunglasses Lenses Deteriorate With Time?
Sunglasses lenses may or may not deterioate naturally over time, as their are expert opinions behind each side of the argument. Here is some useful info on making sure you get the protection you need from your shades.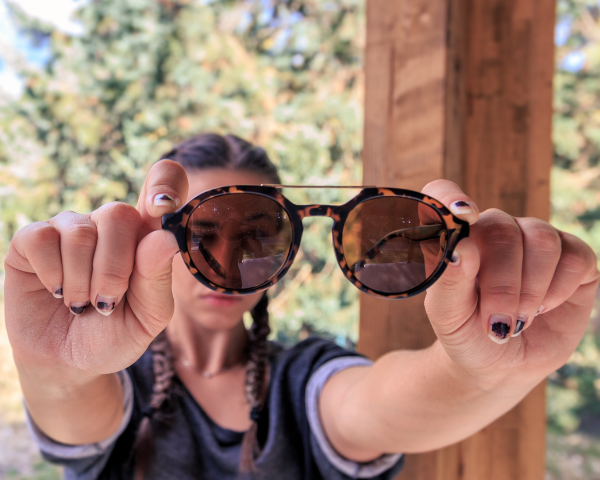 If you're wondering whether sunglasses lenses deteriorate over time, the answer is (somewhat unhelpfully) yes and no. Expert opinions about this issue are rather mixed in the field of eyewear, so finding a conclusive (and unbiased) answer is difficult to say the least.
Sunglasses lens deterioration: the science
While some researchers have found that the sun's rays damage sunglasses lenses and that lens replacement is a must, some medical professionals have voiced an opposing view: sunglasses only have to be replaced if the surface is damaged or scratched.
The medical opinion is based on the pretence that scratched lenses offer less UV protection.
We do not endorse either viewpoint (although perhaps we could if we invested in a large-scale science and research department), but we do suggest that you change your sunglasses every two years – just to be on the safe side.
Nowadays, sunglasses are not just a tool to protect our eyes from harmful UV rays. They're also an important statement piece for us to showcase our unique sense of style.
Most of us have that one pair of fashionable sunglasses or cool shades that just suit our style so well that we have kept them around for years – or even decades! If the researchers are to be believed, it might be time to part with your beloved sunnies, up your fashion game and get yourselves a pair from our selection of tens of thousands.
How to ensure your glasses have UV protection
You might be wondering if your lenses are still up to the task of staving off harmful UV rays, but (more importantly) you should probably check whether your lenses even have this function to begin with.
So, how do you go about finding this out? The answer is pretty easy. Simply check if your sunglasses have a CE mark to find out.
The CE label indicates that these glasses are conforming with the appropriate international standard – i.e. compliance with European regulations – of UV protection and ensures that your eyes will be properly shielded against harmful ultraviolet rays.
So, now that you know how to identify legitimate UV protection in sunglasses, it is up to you to figure out whether you think it's a good time for a replacement pair of sunglasses.
Sunglasses are most likely to lose some of their protective qualities when the lens coatings become scratched.
I'm a UV protection whiz and I'm looking for some new sunglasses. What now?
Congratulations. You've got the hardest steps out of the way. Now, it's time to select a pair of sunglasses – or even glasses – that's right for you. At VisionDirect, we're proud to host a whole range of luxury brands, value models, cutting-edge technologies and more.
We stock loads of brands that offer progressive lenses – just select your new prescription on checkout. If you've seen a pair you like the look of, but aren't sure how they'll look 'on-face', why don't you have a look at…
Arise Collective™ Clarity prescription lenses
VisionDirect offers groundbreaking durability, pristine clarity and perfect vision – all in the same lenses. Arise Collective™ Clarity prescription lenses are made for the everyday wearer, but also offer advanced protection making them suitable for any adventure.
The Arise Collective™ Clarity lens collection comes packed with protective elements to provide you with an unbeatable pair of prescription glasses. From scratch-resistant and anti-reflective coatings to UV 400 and superhydrophobic protection, these lenses are guaranteed to keep your eyes comfortable in any situation.
These lenses are also aspheric, making them thinner and lighter than many other prescription lenses. These high-performing, durable lenses feature innovative lens technology that provides optimal clarity and comfort in the urban jungle.
Simply choose any frames you like, enter your prescription and select Arise Collective™ Clarity for your lens type. Let's get started!
zFORT® blue light blocking glasses
Blue light is a potentially harmful form of light. While it is naturally emitted by the sun, electronic devices (upon which we're spending more and more time every day) are also high-level producers.
Blue light rays at a wavelength between 415nm – 455nm can damage your retinal cells, which may lead to premature eye ageing and vision problems in the future.
Our exposure to these harmful light rays may also cause a range of other health problems, including poor sleep (according to a 2012 Harvard Medical School study). Find out more about how to protect your eyes from blue light with anti blue light glasses from zFORT®.